Customer Reviews
Write a Review
Ask a Question
Great Update
The new upgraded cache caps are AWESOME! Now all of the pockets have velcro closure tabs so that nothing can fall out and I like the inside reflective ribbing that could be used for visual signaling. Once again, Wazoo impresses me with the highest quality USA made survival products. Good tight stitching and good quality materials on these caps.
05/30/2022
Giovanni A.

United States
Key to success
It works and is concealable
Thank you for the review! :)
05/25/2022
Patrick D.

United States
An essential (and overlooked) addition to your EDC!
Why would you want a handcuff key? You do not need to be a criminal to find yourself restrained by cuffs. There are a lot of bad people out there who use cuffs for many nefarious acts (kidnappers, human traffickers, corrupt foreign governments, etc.), and having one of these handy could mean the difference between life and death. Wazoo puts so much thought into the quality of their products, and this handcuff key is no different. It is polymer based, which means that it is not going to set off any metal detectors. And the toughness of the plastic is military grade! It will work on commonly used metal handcuffs without bending or breaking. I recommend placing it in the back of a cache belt, hidden waist line pouch or back pocket. Practice accessing the key with your hand in mock restraints, like how your hands would be positioned if they were actually cuffed. This will give you a better idea of where to place it, and how to most easily access it when you need it.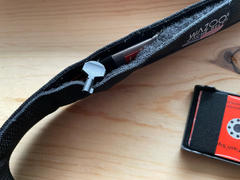 04/30/2022
Anonymous

United States
03/14/2022
Anonymous

United States
handcuff key
small but cheap and easy to hide
03/09/2022
Alan R.

United States
Questioning life's choices?
I do not plan on needing this at all, but one never knows. I justified the purchase knowing that having this key would lend itself to great drunken party tricks. Worth every penny.
01/12/2022
Anonymous

United States
Nice and compact
Looks good tucks away nicely in the belt
01/02/2022
Kody l.

United States
Awsome little peice of kit
Nice peice to complement the cache belt