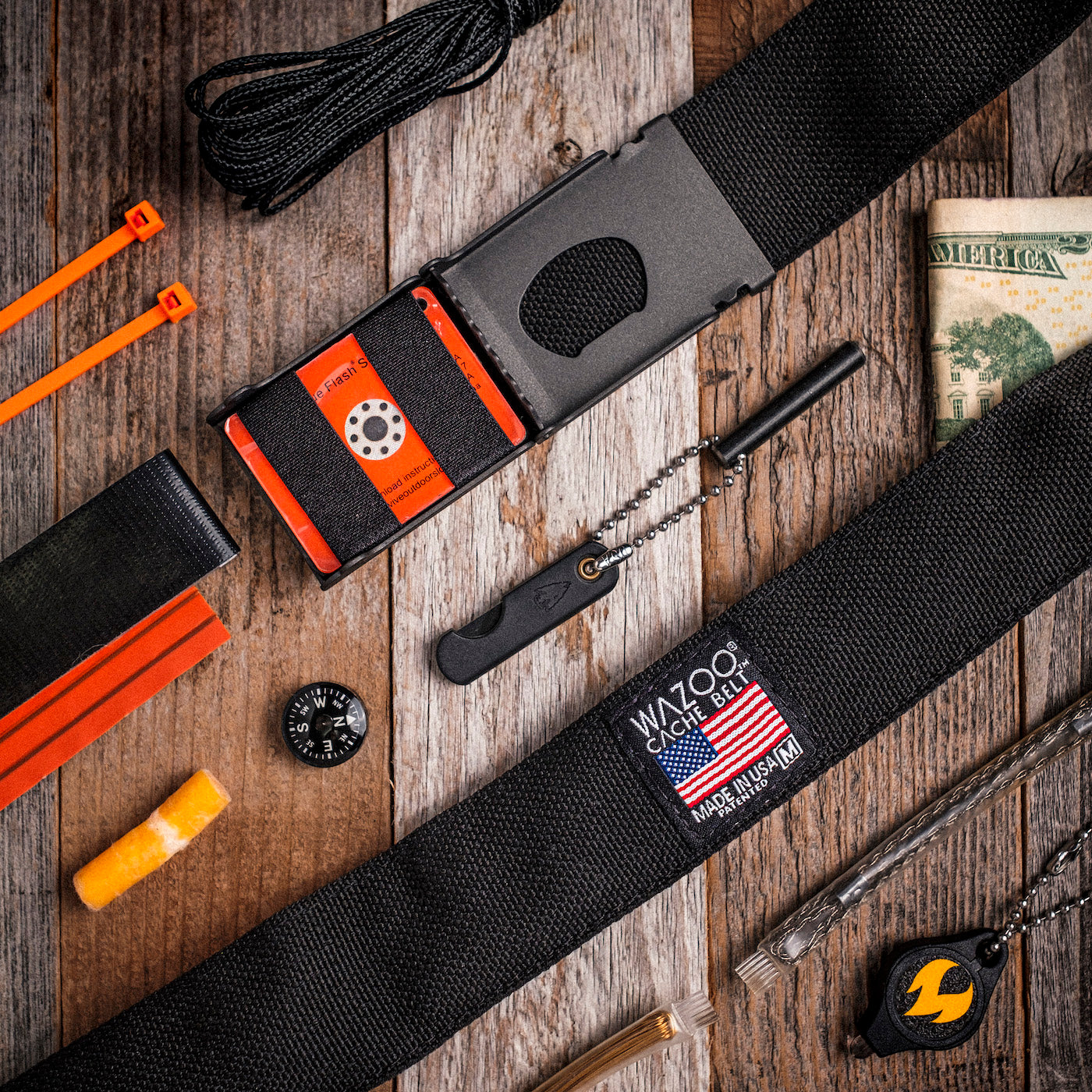 Here's a quote directly from the TSA website: "The final decision rests with the TSA officer on whether an item is allowed through the checkpoint."
Technically, our products are not "TSA Approved," however, according to the TSA website, there is no such thing. Agents can use their own discretion to remove objects or personal items that they feel are a threat to the flight. That being said, the Wazoo crew has flown on many domestic and international flights without any incident, testing the scrutiny of the Adventure and Essentials Kit components and Necklaces through the body scanner, magnetometer, and in carry-on luggage. Therefore, we can say with certainty that, depending on the circumstances, you should have no issues getting through TSA with our products.
TSA does provide a list of prohibited items which can be reviewed HERE.
We have an entire website dedicated to what you can do with the Cache Belt™ to make it work for your lifestyle. Visit our Cache Belt™ User Manual page to see all the videos we've made about the Cache Belt™ and hear from trusted industry experts on why they choose the Cache Belt™ and how they use it.
For legal purposes, our official answer is NO. It is not advisable to use the Cache Belt | D-Ring Cobra Buckle as a load-bearing device.
Here's some specifications regarding the Cache Belt | D-Ring Cobra Buckle:
The D-Ring crafted into the AustriaAlpin Buckle is rated at 22kN (≈4,945 pound-force).Each Cobra buckle is machined from 7075 aluminum alloy with solid brass and stainless steel internal release mechanisms. Each cobra buckle is frame tested to 9kN and are now powder coated for a durable finish.The webbing is MIL-SPEC A-A-55301 and exceeds 2,700lb break tests.Our custom design doubles the webbing over itself and utilizes 5, 27-stitch industrial bartacks to secure the buckle.The thread is Size 69/Tex 70/Govt. E bonded nylon thread.
Absolutly, YES! We created this product to be worn everywhere, all the time, so that you're always prepared for any situation.
Wearing the leather necklaces in the shower is actually better for them in the long run, since it assures that you'll be keeping the leather clean - just as you are keeping your body. Salt water and sweat can affect the integrity of the ferrocerium rod. As with any metal, they can corrode the ferrocerium rod if left on for an extended period of time. When rinsing off the necklace, make sure to move the ferrocerium rod up and down the leather to completely rinse off any residue from all parts of the necklace.
We'll give you just a few reasons why that's happening.
Yellowish stains are typically from sweat and body grime. However, orange-ish discolorations are chemical reactions. These chemical reactions can be caused by:
Wearing your hat post-swim. Your hair will still be holding chlorine and other pool chemicals and they'll slowly turn your hat orange. Facial products. Lotions, facial treatments (especially benzoyl peroxide!), and other creams will turn your hat orange. Haircare products. Same reasons as above.
Discoloration usually happens when sweat and chemicals sit on the hat for long periods of time. So if you rinse them off right away and wash them, it might minimize the discoloration. Lastly, discoloration of black happens because there's no such dye color as 'black' in the natural (cotton, wood, etc) world. Sun and washing machines will beat the darkness out of anything over time.
We'd love to hear more! Did you have to use your belt to fend off a troop of baboons in South Africa? Or did you use the duct tape to tape your phone to a limb to get that perfect selfie stick? Whether you used it to save your life or your IG clout, we want our tools to help you solve problems. We offer refills items from many of our kits here.
If you have a good story of you saving the day with our gear, let us know, we might be able to replace the item free of charge.
We guarantee all of our products for your lifetime. You can read our full Worry Less Guarantee here.
If something happens to one of your Wazoo products, we'll either repair it or replace it at no cost to you. We take making survival products serious and will not cut quality to increase quantity sold. That means we strive to source the highest quality materials, put each and every product through a rigorous testing process, and inspect the crap out of everything we source from suppliers. If it doesn't meet our standards, it's repurposed as Crap Bag material.
Yes, we ship worldwide! In fact, we've shipped to 127 countries and counting. The pricing is automatically generated through our website shopping cart depending on products purchased, shipping location, and, shipping option chosen.
Upgraded shipping carriers like DHL Express and UPS Worldwide are the only options for shipping for certain countries at this time. If your country is on this list, it is because we have experienced many difficulties with customers not receiving their packages when shipping via USPS International in these areas. We will only be able to guarantee your package will be delivered with these carries that are available.
Once an order is placed, products typically ship out within 1-3 business days.  We are a small company and do not process orders on weekends. Shipping time, once it leaves our facility, will vary depending on the method you choose during checkout. Here are the estimated shipping times via USPS (USA orders).
STANDARD SHIPPING - FIRST CLASS USPS | USUALLY 3-7 BUSINESS DAYS
EXPEDITED SHIPPING - PRIORITY USPS | USUALLY 1-3 BUSINESS DAYS
PRIORITY EXPRESS SHIPPING - USPS EXPRESS | USUALLY 1 BUSINESS DAY
INTERNATIONAL SHIPPING DEPENDS ON THE COUNTRY AND METHOD YOU CHOOSE. WE WILL SHIP TO MOST COUNTRIES.
Pre-Order items are esentially Out of Stock items, but they're on their way to being back in stock soon! Orders containing multiple items, including a Pre-Order item(s) will be held until the entire order is complete and ready to ship. Expected Pre-Order shipping dates are listed on the product page. Need your other products shipped sooner? Contact us for shipping options.
We sure do! Use our contact form to submit with your information along with active/current credentials and we'll get back to you with a discount code.
That's great news! We have a Wholesale Inquiries form that you can fill out. Visit our Wholesale Page for more information and to submit a dealer request form. Once we receive your request we'll review it and get back to you as soon as possible.
Our decision to indefinitely halt production of our popular paracord bracelet lines did not come easy nor did it come without intensive calculated thought between founders Nick and Dustin. After all, the bracelets were essentially what put WAZOO on the map, but like any real adventure, it's not where you start, but it's the journey that matters. (Want to see the original viral video pitch from SHOT show 2014? The Youtube link HERE includes a much younger and less hairy Dustin.)
In general, we felt like our ability to design creative new ways to carry tools every day had evolved and outgrown paracord survival bracelets. Nick and Dustin discovered each other wearing our bracelets less and our Cache Belts, Cache Caps, and Kit items more. Essentially our new designs killed our old one, which is sad especially considering all the blood, sweat, and beers we'd invested in them, but it allowed us the time, energy, and resources to focus on new projects like our necklaces, bandanas, and even a new made-in-USA Merino Wool Beanie!
In summary, we're very thankful for all the support we've had for our paracord survival bracelets, and while a week doesn't go by that someone doesn't beg for us to bring them back, we're proud and excited that we are able to offer designs like our Cache Belt and Cache Caps that carry more tools and allow more customizability for each individual or environment. following with the initial mission of making compact and reliable everyday carry survival gear.