"Keep a notebook. Travel with it, eat with it, sleep with it." - Jack London
Most great minds carried pocket notebooks. Do you?
It's a tradition that seems to have died in the present day, although the importance has not. Juggling through the pocket routine of "Wallet.. watch... keys... phone?", a notebook usually doesn't make the list. Maybe it's because we believe our phone has made the notebook obsolete... but has it really? Or maybe it's just because there's no room in our over-stuffed pockets and over-stuffed minds for an additional incumbrance? Either way, the Legacy Wallet has solved this conundrum for us and we think it might for other folks too!
Having a dedicated pocket for the newest and smallest all-weather notebook offered by Rite in the Rain® along with the compact, all-weather pressurized Pokka Pen, it provides the capability to jot down a thought or pass on an important note anytime, anywhere. On top of the functional aspect, we wanted to honor the concept of leaving a legacy.
Are we leaving Campsite Earth better than we found it?
We made this with vintage "Duck Hunter Camo" fabric as a reminder of the legends that came before us, and the finest grade leather ready for years of breaking in and passing down to the legends after us.
Designed for the independently minded minimalist that wants to maximize function and form over financial dependency and consciously crafted in the USA, to balance timeless design with multi-generational rugged construction.
FEATURES
22 different handcrafted steps by Togethermade
3 top-loading pockets
Fits up to 6 cards (IDs, Credit Cards, Grim Cards, Burnable Business Cards) + 1 On-The-Go Notebook
Comes with 3 waterproof notebooks in Blaze Orange (Made in the USA)
Pokka Pen with the all-weather premium pressurized cartridge in Blaze Orange (Made in the USA)
Every wallet has a unique face fabric made of 1000D Cordura® Duck Hunter Camo pattern
Wickett & Craig English Bridle Leather
Fits front or back pocket
Customer Reviews
Write a Review
Ask a Question
01/03/2022
Terry C.

United States
Great Wallet
I bought one for myself and liked it so much I ordered one for my son for Christmas. A great minimalist wallet witg the addition of a pen and pad.
12/16/2021
john c.

United States
its good
the pen writes well and the overall product is well done. I thought the notebook would be a little thicker (more pages) but you do get three. So over all it is a strong 4 leaning to 5
12/14/2021
Anonymous

United States
awesome! but…
I love this beautiful piece of craftsmanship, but I really had to reduce my already minimalist front pocket wallet carry. The added convenience of the pen and notebook are nice, but they really constitute the majority of space this thing is good for. license and 3 other cards max. No place for cash…. I'm gonna give it a few months and see if it stays. thanks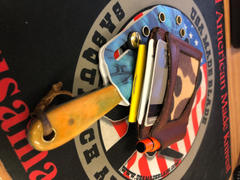 12/13/2021
Anonymous

United States
Legacy wallet. Perfect name for the perfect wallet.
Have been in search of the perfect wallet for a number of years. I think I have finally found it. If you prefer a minimalist wallet I encourage you to give it a try. It has more than enough capacity for the essentials plus you have a pen and notepad. Which if your memory is like mine that has become an essential part of my everyday life. This wallet is of great quality at a price that is less than most lesser quality wallets. Best purchase I've made this year. Thanks for providing quality innovative products the average man or lady can afford.
12/10/2021
Eric F.

United States
Excellent EDC wallet
Personally I think this is an excellent wallet it has enough room for what I need and some cash, the little pen and book don't get in the way and are barely noticeable at all. Very well made, if I had one minor thing I would say I wish the center pocket wasn't so tight it's difficult to get ID in and out but may break in with time. But overall I definitely recommend it's a nice classy wallet but accomplishes everything made and quality is second to none and American made!
12/10/2021
Justin L.

United States
My perfect wallet
I've been looking for my version of a perfect wallet, and I found it at WAZOO. This wallet is flat and a nice small size overall. The cards were a very tight fit at first, but the leather is stretching nicely. I think it is very nice looking also. WAZOO continues to make superior products.
12/10/2021
Marcus F.

Australia
Legacy wallet
Pad is a little small but a great addition to edc
11/19/2021
Anonymous

United States
Great wallet
The Legacy Wallet makes a great gift. Looks great and functional. A great gentleman's wallet.