rigger: (noun) /'riger/ a person who rigs or attends to the rigging of a sailing ship, aircraft, or parachute. 
rigor: (noun) /'riger/ a condition that makes life difficult, challenging, or uncomfortable.
Either definition will work to describe the purpose of this belt!
The original design is rumored to have been made and worn by bored parachute riggers, the ones who repair and pack the chutes, for freefall skydivers and military paratroopers. Out of the sewing lofts of drop zones, rigger-style belts have been adopted by general military personnel and first responders, as well as intrepid adventures in need of a belt that can come in handy in extreme environments.
For a little more history on rigger's belts, see this great article by ITS Tactical.
Typical rigger's belts incorporate a high-strength rated buckle. Some even incorporate a V- or D-ring as an attachment point. Our Rigger's Cache Belt™ incorporates the patented all-in-one AustriAlpin D-Ring COBRA® ProStyle 18kN, sewn in with 5 industrial bartacks.
Like our standard Cache Belt™ it features the same patented top-loading hook and loop enclosure that allows direct access to items like our Adventure Kit. Unlike our standard Cache Belt™, this riggers version has been sewn fixed into the female buckle side with burly bartacks. Many folks have called our standard Cache Belt™ a real life Batman Belt, if that's true, this is our James Bond adaptation.
This is the version we take when we go far offgrid, like slot canyoneering in Utah. If you do not understand the value of the Rigger's version, no offense, but it's probably not the belt for ya.
AustriAlpin buckle rated 18kN (approximately 4,047 Pounds force)
Nature of buckle means you have to put it on differently than some suspect, Nick made a great video on how to put it on. 
[UPDATE] In fact, not satisfied with the 5, 28-stitch bartacks of our original manufacturer, we had a second manufacturer go back over it with 4 more 42-stitch bartacks! Yeah, we went a bit overkill. This may show as loose threads on the backside, but is just the result of tons of stitches punching through 4 pieces of military-spec webbing. Instead of completely cutting and melting all loose threads, and possibly compromising the bartacks and/or leaving a melted rough mess, we left some of them to be trimmed and melted as the end-wearer sees fit.
[LIABILITY CLAUSE] Not intended for climbing, rappelling, or any other load-bearing secret agent stuff.
Customer Reviews
Write a Review
Ask a Question
04/22/2022
Trevor R.

United States
Edc greatness
Well I wear the Riggers belt every single day in black size large, I was hesitant to order the adventure kit for the belt at the beginning due to the price and the fact that I'm in Canada with the shipping and exchange rate it's just not practical so I filled the belt with stuff I had around the house. It is fully loaded with survival gear and escape and evasion gear. It's very comfortable I don't notice I have it on each day it holds up incredibly well I am very pleased I'm not surprised it's been sold out for a while I imagine if they ever do get it back in the shop they're going to sell out of them again.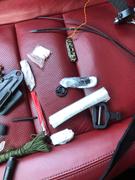 Hi Trevor, Thank you so much for the feedback! :)
11/28/2021
Leon H.

United States
I wear this everyday
I really like this belt. It keeps my pants up, a bonus at my age. It's really nice to know that I have all that stuff squirreled away. Only negative is you can't carry the mirror in it but it looks like Wazzo came up with a more elegant solution than the one I came up with. The thing I like the most is the anchor point. I can attach my German shepherd to that and work hands free.
08/31/2021
Anonymous

United States
Awesome belt
Perfect fit, love this belt. Highly recommend!
08/26/2021
Steve Z.

United States
Dr Steve's review
Amazing belt. TSA allows it!!!!
07/28/2021
Bruno F.

United States
Super belt
Finish of the belt is spot on. High quality. One slight issue is with the length. I'm between 41" and 43" around the waist so I got the large. That leaves me with 11 1/2" of tag end when I cinch it up. I can deal with it but I probably should have gotten the medium. That would have been flattering.
07/27/2021
Shawn W.

United States
Riggers belt
Awesome worth the wait and I can't wait for them to open up the forest so I can go out and review it!
07/20/2021
Michael

United States
5 Stars isn't Enough
I can't say enough good things about this belt. I've used it for everything. I wear this belt exclusively when working on the ambulance, it works great as a duty belt, and when packed with all the content of the Adventure Kit, you have some great contingency plans if things go south. Additionally, I've worn this on many outdoor backpacking trips as my sole PSK. And lastly as a great EDC belt. This belt does it all!
10/06/2020
Anonymous

United States